Since I started out on that note, I might as well sing the song:
Olodo Rabata
Oju eja lo mo o je
O o ni je pepa
Sileti lo mo o je
Sorry to anyone who just had a flashback into a traumatic past because of this song, but there is a purpose to this. So, please hang on.
A few years ago, I watched (and bought) a copy of a Nollywood movie called 'White Waters' featuring Rita Dominic and AMBO (Amstel Malta Box Office) Winner, at that time, OC (Okechukwu) Ukeje. It was directed by the uber talented Izu Ojukwu.

Apparently, there are some waterfalls in Nassarawa State called "Farin Ruwa" which literally means 'White Waters.' Two points to note about the movie for the sake of this blog post:
I deliberately dubbed Melvin's (played by OC Ukeje) friend, a fish, with my own personal nickname: DELICIOUS [bursts out laughing]. I honestly did not plan to do two posts on fish back to back. It just happened. Anyway, the fish was actually called "Loneliness" and later, "Mon Ami" (which of course means "My friend" in French). I still prefer Delicious.
[Spoiler Alert] Melvin repeated some classes in primary school and later dropped out of secondary school. This is where the Olodo song comes in.
'Olodo' (in case you didn't know) is a derogatory Yoruba name which roughly translates to 'dunce' or 'dummy.' The rabata part makes it worse because it means the person is a big, fat dunce. If a child gets his schoolwork wrong either completely or partially or just gets a poor grade, his parents, teachers (and others who have no business being around kids in the first place) might refer to him as an "Olodo." Ouch!
As harsh as that is, what White Waters stirred up in me was the fact that for a child who has been labelled unjustifiably as an "Olodo," his consistently poor academic performance might be due to a serious learning disability (which I believe was Melvin's problem) or the child might just be a slow learner. In other words, the child is not innately stupid, as is often assumed. Unfortunately, as the system functions in Nigeria, there is little to no room to deal with this problem with the tools that are necessary. Those 'tools' cost money, of course, but before we get to that point, identifying that this is a problem at all is something that is not typically addressed.
It pains me to think of the children who grow up and pass through life with such harsh and degrading labels. And as you know, labels have a way of sticking. [Remember your nickname in school? Do people still address you with that name?] However, tweaking the teaching and/or learning methods might help. I have seen people who barely passed classes like Mathematics in Nigeria go abroad and make 'A's in the same subject. If a child does not understand what he is being taught, I think it is a poor reflection on the teacher and not the child. I don't think it is fair to label anyone a dunce because they have a problem working mathematical equations, for example. Do you agree? Or do you think it is right/fair to label a child (or adult) an 'Olodo' because he still cannot solve quadratic equations, for example?
Featured Artiste(s): Stage One
Last week was
Stage One Week
, but due to extenuating circumstances (Chei! See grammar!) I did not get to complete the week with their other song. So, here is their second song (the one I actually prefer) titled "Rise Again":
The Good: What I truly love about this song is that the dynamics of the song mimic the title: you can literally see (or hear?) the song change from one level to another (without using something predictable like modulation). To me, it mimics a plane taking off from the runway. You just know something better is coming and you keep waiting for it (the song, I mean; not the plane ;-) But the plane is cool too). The lead vocalist seems to be very comfortable with the key and the pace/tempo and you can hear it in his voice. Oh, and did I mention that the intro was magical? Well, it was. I liked the punctuation of the piano/keyboard's keys with the guitar chords.
What really caught my attention was the addition of layers and layers using the instruments. It made the song rich and full, but it was balanced out, so it was not overdone. Just when you think the song is over, it picks up again with a more intense rock feel courtesy of the guitar (I don't know which type, but you can definitely hear it). The echoing voice also added a nice touch and played out like an instrument in its own right. I get the idea that each member of this band takes his role seriously. Do you hear it?
The Bad
: Inasmuch as I loved the dynamics of the song, there is one part of it that I felt could have really taken this song to greater heights. The song talks about rising again, but it 'gets off the ground' but does not keep rising in the way I was expecting. I wanted to import some 'thunder' from their other song '
The Rising
' and inject it into this song at key points (e.g. where "You will rise again" is consistently repeated). For me, the song rises to a certain level and then it 'plateaus' (No pun intended: The guys are based in Jos, Plateau State). It could have been catapulted into much higher realms. For real.
I hope you enjoyed the song as much as I did :-) Kachi, the lead guitarist was kind enough (Thanks Kachi) to let me know who was who (I was curious ... and confused), so I thought I would share that with you. From left to right (see picture below), the four young men who are collectively known as 'Stage One' are: Joseph Jawfu (Bass guitar), Yehoshua Odidi (Drums), Kachi Mozie (Backing vocals/Lead guitar/Acoustic guitar/Piano) and Nuhu Gaina (Lead vocals/Acoustic guitar/Piano).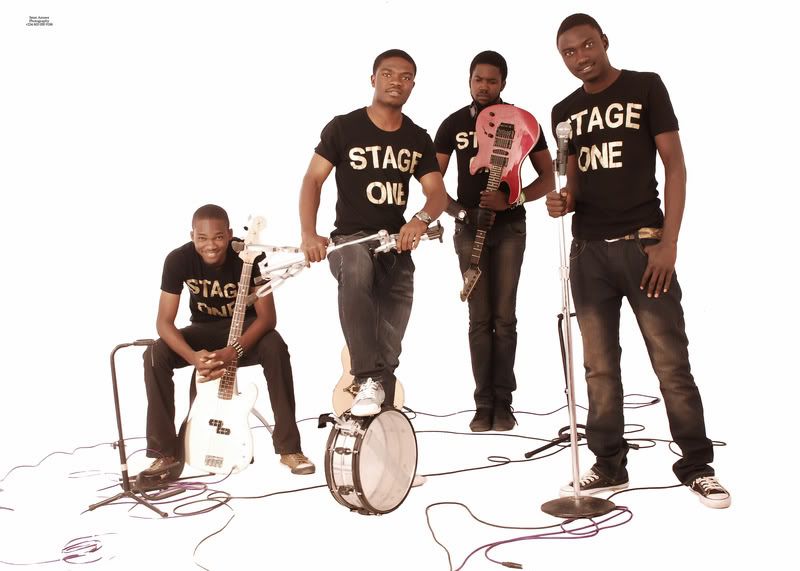 L - R: Joe, Yehoshua, Kachi, Nuhu ~ Stage One / ReverbNation
Hopefully, you got to know the guys a bit better with that brief info. Check out the
previous post
for even more information in case you missed it.
That's it from me. I shall see you guys before the week is over. *fingers crossed* Cheers!