Although I support the advancement of women's rights, etcetera all over the world, I would not describe myself as a feminist at all. I said all that because I get very excited when I come across female gospel artistes in Nigeria. Now, it is not like their male counterparts do not matter or are irrelevant, but the female artistes are outnumbered by the male artistes. Furthermore, finding a female artiste who is actually talented (yes now, not all of them are talented … abi na lie I talk?!) is more difficult than finding fresh agbalumo in a regular grocery store in Yankee. Well, okay it is not THAT bad, but you get my drift, i.e. they are a rare breed indeed.
What I have observed is that female gospel artistes tend to be pigeon-holed into particular genres or types of songs, i.e. praise and worship type songs (I guess you can tell by now that I am not a real fan of praise and worship type songs. I just feel that gospel music is so much more than that traditional "form" of music). Frankly, I can make this argument for just about any artiste, but the focus is on female artistes today.
If the female artiste is a soprano-singer, i.e. can hit those really high notes, instead of that being a good thing, it actually tends to work against her in terms of what types of songs she sings. In other words, she is pigeon-holed (yes, I used that same word again for a reason) into singing in a particular way, so that we almost always get to know the range of her voice in every song. That, my friends, can get pretty boring and predictable very quickly. I think that's why I prefer the alto singers. They tend to do more even with a seemingly limited vocal range.
So please ladies, challenge yourselves to try something different in terms of vocal versatility every now and then. Where we expect you to just adlib by yourself, try adlibbing in harmony, ati bee bee lo (etcetera). If you tend to sing R n B, try singing a Dancehall or Reggae song on your next album. That element of surprise keeps things interesting.
Featured Artiste: Ogecha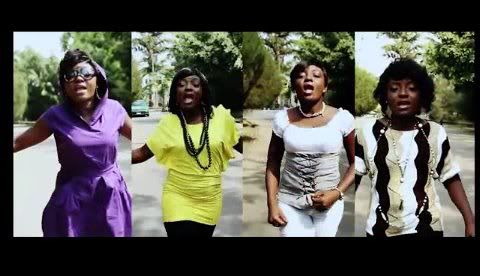 Ogecha / YouTube screenshot
Ogecha has been featured on this blog HERE where I introduced you to her via 2 of her songs: All for You and A brand new thing. She released her debut album "All for You" in August 2011, and although I have not yet laid my eager hands on a copy, the samples on ReverbNation are quite tantalizing. I have already said that she is one artiste to look out for. I wonder what a collabo between her and IBK would sound like or what one of her songs produced by IBK would sound like. Until then sha, while I wonder away, here is "Ubangiji" by Ogecha. As usual, please see below some more information on Ogecha.
Artiste's Stage Name: Ogecha
Artiste's Real Name: Diane Ogecha Haruna
Featured Song: Ubangiji
Ubangiji (Audio):
Have a blessed week and Happy New Month in advance!